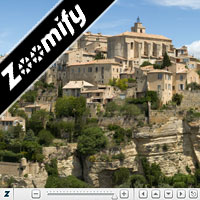 In this Photoshop tutorial I'll show you a quick and easy way to show off your panorama images using Photoshop's Zoomify feature.
Step 1
Sometimes a single photograph just can't capture the majesty, vastness or sometimes complexity of a scene and the dilemma has plagued photographers for decades. Oh sure, you could go spend your kids college fund and buy a large format panorama camera and then exhaust yourself packing it to every photo shoot just incase the opportunity presented itself… but as anyone who's ever hiked a 10 mile trail for a photo will tell you, that'd be no fun at all.
Thankfully we live in the digital age where with a little know how and a few simple tools we can take a series of photographs, plug them into our nifty software program and end up with a stunning panoramic photograph. Ok, I know you're going to ask for a tutorial on stitching panorama shots, so spare me the comments and requests, I'll put that on my list!
I took a series of 16 vertical photographs of the Luberon valley near Gordes, France a few years back. The native file size of the final image would be equivalent to having been shot with a 36 Megapixel panorama camera (if such a thing existed). Sure, it's no big deal to print an image of this width, but as you can see from the example below, it's darn hard to share with my friends via the internet.

Step 2
Luckily, the good folks at Adobe were once faced with the same dilemma and have included a nifty little function for us in Photoshop. Lets take a look at how I'd prepare a photo for the Zoomify technique and then go through the process.
First of all, there's no way my friends are going to wait for a 460MB file to download, so I need to resize the image to something more practical. Since I know that for this website I don't like my images to be wider than 540px, and since I also don't want my buddies to have to zoom in and out of my photo to pan through it, I'm going to choose Image>Image Size from the main menu and constrain the proportions to 540px in height (which makes the image a hefty 3579px wide).
(*note: If the image you create is larger than your final view window, your viewers will have controls available to scroll up and down as well as side to side.)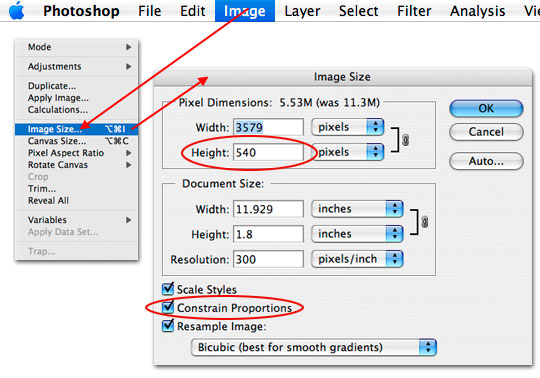 Step 3
Now that the image is resized, it's a simple as choosing File>Export>Zoomify from the main menu and setting a few parameters including the background style I'd like behind the image and what size I want the view window to be. It's important to know that the controls that will appear beneath the image measure 20px tall, so add those 20 pixels to the size of your image if you don't want any vertical scrolling (so in this case the image height is 540px, so I'll make the view window 560px tall). You can also choose to have it open the file in a browser when it's done processing it.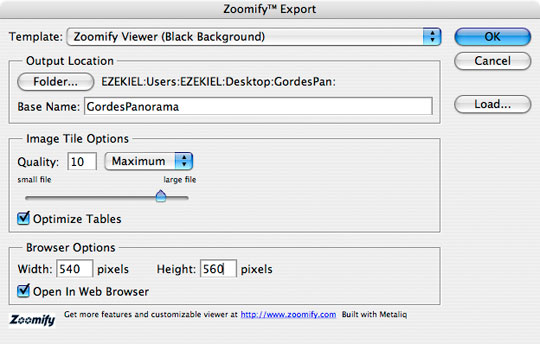 Step 4
And just like that, we've got our panorama image placed nicely into a window that we can fit into any webpage for our friends to enjoy. Go ahead, pan around, knock yourself out!
*If you are using an older IE or Netscape browser and can't see the image below, you may want to consider switching to a more standards compliant (and up to date) browser like Firefox.
(*note: obviously since Photoshop did all the heavy lifting here, there's no tutorial file needed for this lesson.)
Lesson Files + Additional Resources
There are no file downloads or additional resources for this Photoshop tutorial
Tell Your Friends